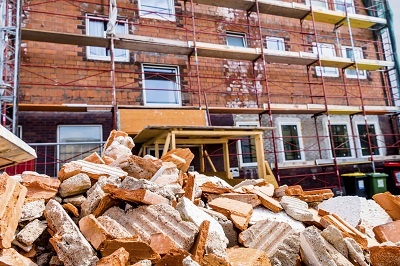 Starting a new construction project can be both challenging and exciting. There's a lot to consider before breaking ground. When you're planning your next project, it's crucial to set aside time and money to make sure your site is consistently being cleared of waste and debris throughout the production. Below are some benefits of reducing waste as you go.
Sorting Equals Efficiency and Safety
Generally, you'll need to breakdown and clear an area before you can begin a project. It's vital to have a few roll-off dumpsters available to help with the sorting. There should be at least three piles or containers that can include reusable materials, items to recycle, and straight-up waste. This helps to keep the property clean and organized, as well as being a safer space for your workers. There's also your city's regulations to consider when reducing waste on a construction site. Following these guidelines is much easier to do when you have a waste reduction plan and a reliable waste partner working with you. Of course, sorting in this fashion helps with work efficiency also.
Supporting Sustainable Living
There are huge environmental benefits for separating reusable items and recyclables. By sorting these materials, you're producing less waste at landfills, and helping to prevent pollution in your area. You're also helping the planet by using less natural resources and reducing CO2 emissions. It's a win/win for the entire community.
Make Your Business Stand Out
Because you've taken the stand to commit to sustainable living, reusing and recycling, and "going green," this can be used as an amazing selling point for your business. Every day, there are more and more people who will go out of their way to hire and work with environmentally conscious businesses. Don't hesitate to use this as a promotional tool. Advertising your waste reduction plans can help your business to stand out among your competition. Research the local waste reduction services in Clare, MI, for dumpster rentals and take the right steps to build a better business today.